What we do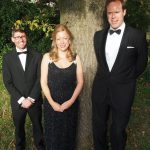 In order to help answer any questions you may have about how we work and what we find, from our extensive experience performing at every type of event from personal occasions, to corporate and promotional events we've included an outline of what we find works best here.
To begin it's worth stressing that we appreciate that every single event is different and we are very happy to personalise our performance for you and be exceptionally flexible in the moment from the moment you enquire through to the completion of our performance, but we understand that you may not host such events every day and we want to help you make the most of what we have to offer.  Thus, here are some guidelines to what we would normally offer –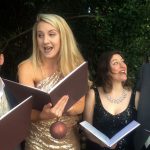 How long do we perform for?
For a typical booking we would offer up to 90 minutes of singing within a three hour period.  We are very happy to give sorter performances. Often we are requested for as little as 20-30 minutes for a feature high energy performance, for 30-45 minutes as guests are arriving or at key intervals throughout the event of typically 3 x 30 minutes.   We are very adaptable however and can spread the performance out in short sets of 5-10 minutes or up to 45 minutes continuously.
We also often perform for longer events.  Our standard basic rate is for performance within up to a 3 hour period, however we are happy to quote for longer events.  We are able to sing for up to 30 minutes in each additional hour we are booked to be on site up to 6 hours, and are happy to stay to spread out our performance over a longer period, with up to 180 minutes of singing per day spread over the course of your event.  If you would like more continuous singing we will be happy to do this for you if you would like to book two of our ensembles to alternate performances seamlessly.  Please let us know what you have in mind and we'll be happy to give you a quote with some options.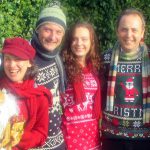 What breaks are required?
A cappella vocal singing is unique because since we sing our beautiful four part harmonic arrangements without the need for instrumental accompaniment the voices are continuously working throughout the performance.  Because of this we do require at least a 5 minute break now and then.   If you only need us to sing for a 45 minute period we can generally very happily sing throughout this without a break, however if you would like 90 minutes of singing we will need, as a general rule at least a 5 minute break after every 30 minutes of singing in order to rest voices and have a drink of water.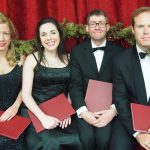 Can we make requests?
Absolutely. We have a large repertoire of all of the traditional Christmas carols as well as the well known fun non-religious festive seasonal songs and a uniquely diverse list of our own special arrangements of popular modern Christmas songs as well.  You can find our current repertoire list here.
All of our repertoire is well rehearsed and we can either sing from our repertoire as best suits the mood in the moment without any prior preparation by yourselves, we can prepare a list of your specific requests in advance on request, or we can take your requests in the spur of the moment at the event.  We are exquisitely flexible.
"Right, we're ready to book. How does this work?" It's simple:
First just click on the enquiry button or go to our contact page and give us a few details.  You can just give us the basics including date, start and end times and the location of your event or you can give us a bit more information about your unique request and we'll be happy to personalise a quote for you.
Once we've sent you our quote please feel free to ask any further questions you might have or let us know if you need some time to consider.
When you're ready to book, let us know that you'd like to go ahead and we'll ask you for the booking details we need to contract and confirm your booking.
Once you return these details to us we'll send you the contract (usually by pdf or electronically depending on your preference but let us know if you'd prefer hard copies in the post, we're happy to supply these).
Once we receive the signed booking confirmation our performance will be secured for your date and we will make any necessary travel arrangements and preparations to be there and in top form for you.
If appropriate we will call you and/or your venue in the lead up to your event to touch base on fine details for our arrival and performance so that everything our end runs smoothly for you on the day.
Unless otherwise requested we will arrive 30 minutes before the performance start time.  When we arrive the ensemble leader will introduce themselves to you or the on site point of contact you've given us.  We will have a look at the space you would like us to stand and perform (no set up required for a cappella acoustic performances), and ask our point of contact to kindly show us the break area where you would like us to wait while waiting to perform and between sets.
At the appointed time we will move into place and begin our energetic, heart felt and finely tuned performance for you.  Being an acoustic vocal act means we can easily move about for you as well, so if you would like us to sing in the entryway as guests are arriving, then move somewhere else in the venue at any stage we are happy to do so.  If you would like our carol singers to mix and mingle, sing moving about table to table taking requests, or if you decide after we've started that you'd like us somewhere else just give us the slightest nudge, we're more than happy to be intuitive to your wishes.
When we've finished our performance we will (if appropriate) find you to say our thank you's to you for inviting us to be a part of your festivities and discretely gather our belongings and depart.
We love to hear about what you thought of our performances, so please do feel free to send us an email after the day or leave your feedback on our site for our reviews page!
We will look forward to making our performance for you one of our annual events!